The Striped Scarf
Nº 225: Unexpected delight in the det... Read more
Nº 225: Unexpected delight in the details. Each scarf is totally unique, with subtle and structured color play—the front is a vertical striping in a random pattern, the backside features horizontal yarn floats. The Striped Scarf is a creative challenge for our expert knitters. A cashmere scarf that's just your own.
100% Heirloom Cashmere
Made in Santa Fe, NM USA 
Lifetime Care & Guarantee
Medium Weight (4 ply)
Approximately 10" Wide x 87" Long
Read less
Ships same day (if 4pm MST or earlier)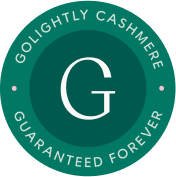 Guaranteed Forever.

100% HAPPINESS GUARANTEE
We promise you'll love this hat. Forever. Or we'll buy it back.
We are so confident in our products that we guarantee elevation, satisfaction, performance, and longevity, forever. If you ever disagree, just send us back the hat for a full refund.

100% TEND AND MEND GUARANTEE
We promise to extend the life of your hat. Also forever. And ever.
We will wash, service, refresh, tend to and mend your cashmere, free of charge. Forever. Who does this? No one, but us. Other companies will 'guarantee' a thing for life, but we do something no one else does: We actively participate to increase the lifespan of your hat.

100% DEDICATED SERVICE
The only hat that comes with roadside assistance.
We give our customers direct access to our knitting mill for questions, requests, service, care. Call us anytime on our dedicated customer line.